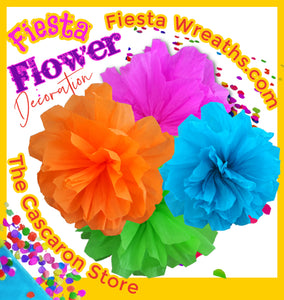 Fiesta San Antonio 2022 is coming and you need to decorate with the best decorations at The Cascaron Store Fiesta Arts Designs. They have the top fiesta decorations, wreath, garland, maracas, cascarones, pinata, mini pinatas, clothing, shoe box parade decorations, flags, donkey pinatas and more. Fun fiesta decorations for you! If you google fiesta wreath near me or fiesta decorations near me! This is the place The Cascaron Store gives you the best fiesta, Cinco de Mayo, Hispanic Heritage month celebration decorations in San Antonio! Decorate fiesta 2022. Our fiesta products are unique and made in USA. All products are creations by MLH. The best fiesta designer in San Antonio. from custom markting pinatas, props, displays large decorations, you name it they are here. Decorate San Antonio with the most famous fiesta party decoration store at The Cascaron Store.   This fiesta 2022 decorate with beautiful large crepe flowers centerpieces. Give your rooms some color to keep our families smiling and happy!  We all need to decorate and have fun this fiesta 2022! We love our San Antonio traditions and decorating our fiesta party will give our friends and family something more powerful a smile! buy some fiesta flower bouquet or send a fiesta flower bouquet from The Cascaron Store to someone you love. Viva Fiesta 2022 is here! Your Fiesta store is The Cascaron Store
Fiesta door wreath is our best and large fiesta decoration for your home, business or party. Decorate with a beautiful fiesta wreath. We design all our wreaths here in San Antonio by MLH.  The Cascaron Store have over 1000 designs. Buy your fiesta wreath today! 
google buy a fiesta wreath. Is our best wreath for your home. Decorate with colors that will make your neighborhood happy this fiesta 2022.