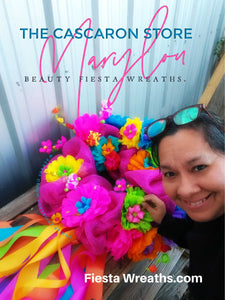 Fiesta wreaths in San Antonio are at The Cascaron Store, this fiesta 2022 buy here the best fiesta wreath and garlands. #1 Fiesta Party Decorations by MLH fiesta collection designs. Fiesta 2022 is here! Decorate your home, office, boutique, business or event with our top fiesta decorations. Fun decorations and displays for your home. 
Fiesta San Antonio is the best time of the year! We celebrate our fiesta celebration with the community and decorate our home, business, offices, restaurants, companies, schools, events and parades with all our fiesta wreaths, garlands, decorations to honor our fallen heroes of the Alamo! Fiesta wreaths from The Cascaron Store have being San Antonio #1 fiesta decoration and their custom wreaths, garlands, decorations and more for all your fiesta decorations are here! Buy your fiesta decorations and make the best fiesta party celebration. Let's fiesta San Antonio 2022 is here! at The Cascaron Store.
 Fiesta is to be happy and to get the best decorations is to start decorating as soon as February. Fiesta months are March and April and its best times to get your decorations is on February. Bloom your home with beautiful and colorful fiesta decorations from The Cascaron Store  
 Need to decorate outdoors or large wreaths for your gates waterproof! The Cascaron Store have a large variety of outdoor fiesta wreaths from Extra Large to small. The most beautiful wreaths design by MLH fiesta wreath collection. 
Go big this fiesta 2022  and decorate your home with the most beautiful and low cost fiesta wreaths! find it at The Cascaron Store today! 
Fiesta Flags papel picado most beautiful designs are at The Cascaron Store. We design the best papel picado fiesta decoration for your fiesta 2022. Have fun decorating your fiesta home porch with our colorful papel picado. Let the fun of fiesta 2022 begin. We have your donkey pinata, maracas, papel picado, decorations and more. 
The Best Fiesta San Antonio decorations are at The Cascaron Store 
Viva Fiesta San Antonio 2022 is here to celebrate and decorate! 
Fiesta Crepe Paper Flowers by MLH Fiesta Collection find them at The Cascaron Store