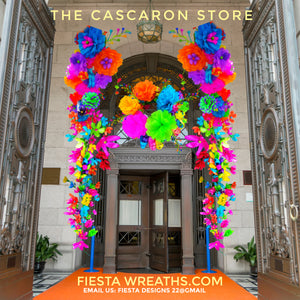 San Antonio Event Displays & Decorations Fiesta Theme Party Decorations. Beautiful Event, Gala, Wedding & Celebration Decorations are here The Cascaron Store www.fiestawreaths.com
  The Best Fiesta Decorations for all your events, party, convention, grand opening, celebration, large party, festival and marketing professional decorations are here at The Cascaron Store professional Fiesta Designs by Marylou MLH Decor. 
Need The Best Event Fiesta Decorations? Yes! Marylou's team of creative professional displays designers, props and backdrops like no other! You only will get the best and Yes you will be the talk of the town. Be remember for amazing displays, decorations and impressive fiesta decorations. Contact Us: Email Us: fiestadesigns22@gmail.com or call us (210) 279-1889
 Every piece of wreath, display, decoration is creative and design to the finest fiesta detail. To give you the most beautiful decorations as creative display professionals our team design and create every piece of flower, display and party decoration more beautiful just for you. We Design for your Fiesta: 
San Antonio Event
San Antonio Convention
Fiesta Party
Fiesta Event marketing
Fiesta Grand Opening 
Celebration
Hotel
bank
Office
Lobby
fiesta gala and much more! Let us transform your San Antonio event more amazing call or text us: (210) 279-1889
 We are creative designers and our professional is to create the best fiesta decorations for your event, home and party. We thrive to make you look the best for your guests. 
 The Cascaron Store creates professional event displays in Texas and we go to your location to design impressive location entrance that fits your event theme and decorations. Indoor and Outdoor displays and large backdrops for your event. Let us transform your special event more spectacular than you ever imagine. 
 Impress your target audience with creative displays, props, entrance displays and backdrops for your guests to take pictures. We create the best in Texas. Contact Us today! Email Us: fiestadesigns22@gmail.com 
 Displays for your event are so important! They say lots about what you offer as a corporation, marketing or company to your guests and it speaks for you. We take that to our creative work and design a package of creative displays, props, decorations and backdrops that express your business to connect with the community. 
Contact us Today! (210) 279-1889 or Email Us: fiestadesigns22@gmail.com