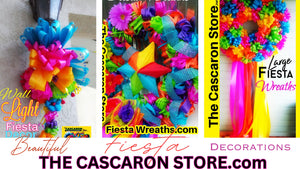 Fiesta party Decorations for you!  Buy it Here Today at The Cascaron Store www.fiestawreaths.com is the best place to find all your fiesta party supplies. We create fun fiesta decorations from fiesta wreaths to fiesta decorations. We have the best quincenera! fiesta party supplies. fiestawreaths.com is the best for all your Mexican party supplies needs. www.fiestawreaths.com
 See the beauty of creative fiesta decorations collection by MLH. here at The Cascaron Store 927 Austin Highway. Online fiesta party decorations but more beautiful on store one of a kind pieces special fiesta collection design by Marylou MLH.
 San Antonio Fiesta Wreaths at The Cascaron Store located at 927 Austin Highway are the best fiesta wreaths in our city of Alamo Heights, Terrell Hills, Dominion and San Antonio, Tx. Our one of a kind creative fiesta decorations are beautiful for all your fiesta party supplies needs. Every fiesta wreath design is created to connect our San Antonio tradition to what fiesta is about! to honor the fallen heroes of The Alamo. 
The Best Fiesta Wreaths and fiesta decorations are here at The Cascaron Store located 927 Austin Highway. Email Us: fiestadesigns22@gmail.com