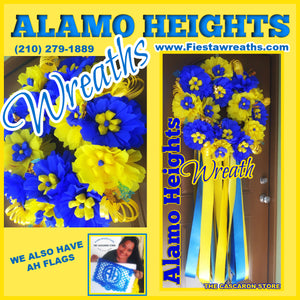 Alamo Heights Wreaths and Decorations are here! @ The Cascaron Store. www.fiestawreaths.com  Show your school support with our Alamo Heights Wreaths. Get Yours Here at Alamo Heights Wreaths 
Beautiful Alamo Heights Wreaths with bright blue and gold colors will stand out to show your school spirit. Buy this large Alamo Heights wreath and give one to your friend, teacher, family member or supporter of AH. 
Alamo Heights is our neighborhood most spirited community and we show our support with this amazing front door wreath that will impress your neighborhood. buy your Alamo Heights Wreath here at: www.fiestawreaths.com
We deliver your beautiful wreath to your home or ship it to someone you love. Let us bring some happy AH spirit to you and support your school team, cheerleaders, sport, football, basketball, track, band member, student, volunteer, swimming team, teacher, coach, parent or bus driver and give them one of this beautiful wreaths. This Alamo Heights wreath is also perfect for football homecoming decoration. 
We have Alamo Heights Wreaths, Garlands, school homecoming decorations, props, large displays and parade floats. We design for all Alamo Heights events, party, school homecoming, sports and decorate your full event. 
Contact Us Today! (210) 279-1889 or Email Us: fiestadesigns22@gmail.com