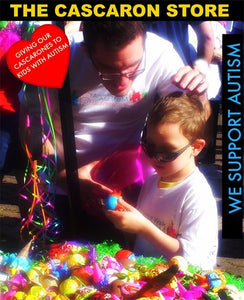 Fiesta wreaths are "Fiesta" San Antonio tradition and making one more beautiful for You! more beautiful decorations, mini pinatas, or Unique Decorations you will find them The Cascaron Store 931 Austin Highway. 

Fiesta wreaths decor, designs, custom mini pinatas, cascarones, papel crepe large & mini flowers, designers fun wreath add on's, they are so unique you will love them. 
San Antonio Fiesta is our passion and creating your own fiesta wreath with a wide selection of decorations, designs and making it your own will make your wreath stand out from the rest! Fiesta at The Cascaron Store is our passion.
#fiestasanantonio, #fiesta, #fiestawreath #fiestadecorations, #fiestawreaths
How to Make your Fiesta Wreath 
1. Pick Fiesta Wreaths Decorations. 
Fiesta wreaths decorations: mini pinatas, zarapes, mini paper flowers, large crepe flowers, fun decorations, unique designs. Cascarones, ribbon, waterproof decorations, flat flowers & more. 
2. Choose Large Crepe Flowers
Beautiful Crepe Flowers find them at 931 Austin Highway!!!!
3. Pick Your Creative choice of ribbon!!
Fiesta wreaths ribbon is the most beautiful part of your fiesta wreath. Have beautiful choices to bright up your double door or gates you will find them here at The Cascaron Store located at 931 Austin Highway, Alamo Heights, Tx 78209.
Make your fiesta wreath more beautiful, more fun, more attractive and burst with colors, be the envy of the neighborhood and create a unique more fun fiesta wreath. Find all your unique fiesta decorations Here! bring your friends and family to choose every fiesta wreath add on decoration and get a discount! 
All our fiesta wreaths are dedicated to help kids, teens and adults with Autism & Disabilities. Its in our hearts to make our store in The Cascaron Store a store that makes it AUTISM friendly! for parents or family members that have a kid, teen or adult with Autism Bring him or her to our store! with us! we accept and understand all your challenges, needs and will make your visit comfortable! WE ARE A FIESTA STORE THAT ACCEPTS AUTISM! Fiesta Wreaths 4 Autism!!The Cascaron Store 931 Austin Highway, Alamo Heights, 78209
See more how we help kids, teens and adult with AUTISM! AT THE CASCARON STORE HERE!