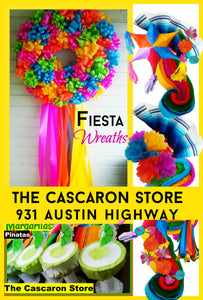 Fiesta San Antonio Top Decoration Designers & Event Full Decoration Service
Fiesta Custom Home and Event Professional Decoration Designers. We create unique fiesta decor for all your fiesta party elegant decorations. Our artists, sculpture and designers award winning fiesta full decoration service will design impressive decor. We create the most beautiful fiesta outdoor/indoor decorations for your home, event, festival, company, business, presentation, store display, promotion fiesta display. Marketing or presentation convention fiesta San Antonio event stage display decorations. We custom entrance gates extra large waterproof fiesta wreaths. 
Fiesta Crepe Paper Flowers Designers are at The Cascaron Store located at: 931 Austin Highway, Alamo Heights, Tx 78209. MLH fiesta flowers design collection. Find the most beautiful fiesta flowers in Alamo Heights. Decorate your fiesta party with elegant fiesta flowers. We create so so beautiful flowers like no other, every flower is handcrafted by MLH Fiesta Designer. Make your table, wreath, tree, porch, chair, stair rail or hang decoration more beautiful and impress your guests with The Cascaron Store unique fiesta flowers & decorations. Buy yours Today!