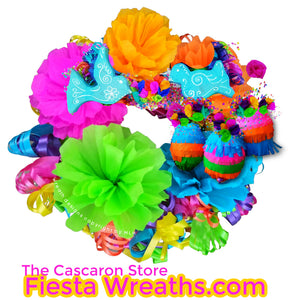 Fiesta Wreath in San Antonio Most Beautiful Wreaths! Say " Fiesta Wreath Near Me" or " Google Buy a Fiesta Wreath" The Cascaron Store is the best place to buy your fiesta wreath, garland, flags, crepe flowers, mini pinatas, cascarones, maracas, donkey pinata, decorations and more. 
Beautiful large fiesta wreaths for your home, business, event, party or decorations. 
Fiesta 2022 Top wreath are here www.fiestawreaths.com buy them at our new location The Cascaron Store located at 927 Austin Highway. call us (210) 279-1889 
Fiesta 2022 is to celebrate our city of San Antonio fallen heroes of the Alamo and honor them. We are fiesta San Antonio and together we LOVE FIESTA! to decorate our homes is to show our passion, love and happiness for our city! Viva Fiesta San Antonio and decorate with our fiesta products at The Cascaron Store! buy your products today! call us today! (210) 279-1889
We are fiesta 2022 decoration top designers in San Antonio! Fiesta table centerpieces, garlands, party balloon arches, backdrops and much more! 
Fiesta is for you and me and all our family and friends to be happy! Bring them colorful gifts with our fiesta gift stuffers and gift wreaths that will make them smile a little more this days! We are here to make you smile! this Fiesta 2022! 
Fiesta is here and giving a fiesta wreath to someone you love is special
 Fiesta Wreaths for your home, business, company or store and make your place more colorful and happy! We love our fiesta! Come and buy your fiesta wreath, garland, flags, maracas, hats, fiesta crepe paper flowers, mini pinata, donkey pinata and all your fiesta decorations are here at The Cascaron Store!