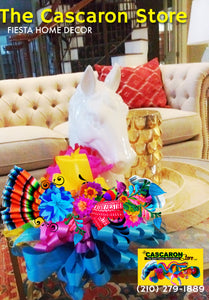 Fiesta Full Home & Event Decoration Service is our passion here at The Cascaron Store. We offer a complete professional fiesta custom home & business service. We create, design, install and transform your place into an impressive fiesta party location. We make fiesta displays, props, wreaths, large garlands, outdoor/indoor decorations, tree fiesta displays, marketing & advertising fiesta decorations. 
Homes, Manor & Mansion Extra Large Fiesta Wreaths & Garlands are our specialty at The Cascaron Store. We design and create impressive fiesta decorations for you and your company. 
We create unique fiesta decorations just for you! Our fiesta designers & award winners transform homes, events, hotels, businesses, companies, offices, parade floats & stores into one of a kind fiesta theme decor displays. 
San Antonio Full Fiesta Home & Business Decoration Service 
Contact Us: Email: fiestadesigns22@gmail.com
call or text us: (210) 279-1889 
Fiesta Events are unique and special and we custom our fiesta decorations to your event or company logo, organization, University or home party theme. We cater to your likes, needs & company custom displays. 
 Creative Custom large prop displays by The Cascaron Store contact us: Email Us: fiestadesigns22@gmail.com
 Yes! we create large stage prop displays for every fiesta event, home, business, restaurant or event. The Cascaron Store call or text us: (210) 279-1889
Let's keep our fiesta tranditions going Alamo Heights, Olmos Park & Stone Oaks is our San Antonio Fiesta Traditions! Email Us: fiestadesigns22@gmail.com