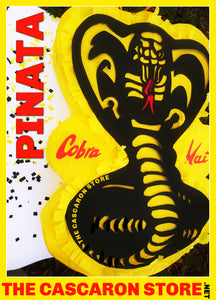 COBRA KAI PINATA BIRTHDAY PARTY SUPPLIES. 
Cobra Kai piñata, decorations and party supplies are here at The Cascaron Store. Eagle Fang Karate pinata, garlands, wreaths, wall decorations, T-shirts. Strike your pinata like a cobra and get your cobra kai piñata today! Buy one pinata or send one to a friend or cobra kai fan. This pinata is perfect to decorate your room. Cobra kai fans we are kicking the competition with our pinatas. 
Eagle Fang Pinata strikes season 4 this party and watch your show! Buy your party decorations must kick as your room decoration top display. Your lesson for season 4 is to buy a pinata and strike. 
Party like 1985 skip to 2022 and Karate Kid turn into Cobra Kai Best friend. When anyone ask what is cobra kai you say its about me! my story! my friends and my family standing strong in tough times. We honor that here at The Cascaron Store. Stand strong! Strike to be the best.