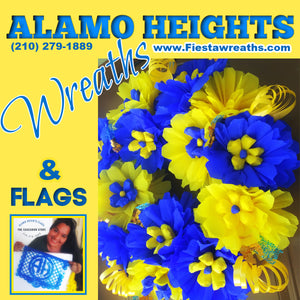 Alamo Heights School Wreaths, Garlands, Fiesta Style Flags, Blue & Yellow Spirit Decorations, Parade Float Props, AH Papel Picado, Table Centerpieces, Mules Mini Pinatas, blue & yellow cascarones, topiaries, events & party full decoration service for Alamo Heights & sports moms. 
We Love our Alamo Heights Neighborhood schools. Our beautiful Blue and Yellow wreaths are Large 25 in wide to show your school spirit and support the community! Decorating to boost our kids, teens, and people's spirits up! is what we do here at The Cascaron Store. www.fiestawreaths.com
Alamo Heights Blue & Yellow flags decorations custom for your fiesta AH school spirit outdoor decoration. Make your home, school, organization, store, restaurant in Alamo Heights more fun with our AH blue & yellow papel picado flags. Our custom designs for school is perfect to show your support to your guests, clients, family or friends.
Buy your Alamo Heights Flags Today!  HERE!
Keep your school & community spirit up! with our Alamo Heights Decorations, Garlands, Gift Bags Mini Pinatas, Wreaths & more.
 Alamo Heights & Olmos Park Large Decorations for fiesta, school spirit and community blue & gold event & party decorations are here! The Cascaron Store. Wreaths, Garlands, Cascarones, Mules Mini Pinatas and more.